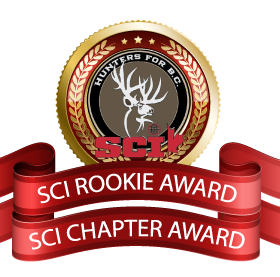 A note from our President, Robin Unrau:
January 24, 2021
Hello fellow hunters and huntresses,
We are extremely proud to announce that our Hunters for BC SCI chapter has won two prestigious international awards from Safari Club International.
Rookie Chapter of the Year 2020 and Chapter of the Year 2020
These two international awards are a testament to the extremely hard work and diverse talents of our team and our members in not only initiating this great organization in BC's Interior, but growing it for the benefit of all our Province, in this, the year of a pandemic.
We are First for Hunters and Hunters for BC SCI, working hard to promote and protect Hunter Heritage and the conservation of our wildlife and wildlife places. I urge everyone with an interest in hunting and conservation to join with us in our fast paced and forward-thinking organization.
Give us a good hard look! We are "Built by Hunters FOR Hunters." True conservation through hunting is under attack globally and we have taken on the challenge to reverse that trend here in BC.
We are here for the long haul and pledge to dedicate our efforts to put the wild and wildlife back into our Beautiful and Supernatural BC.
On behalf of our Board and our members, a sincere Thank You!
Robin Unrau
President – Hunters for BC SC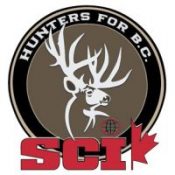 "Hunters for BC" developed almost 2 years ago with a small group of BC resident hunters meeting to discuss dwindling wildlife populations, fragmented habitat and the need for better representation of the hunter-conservationist.
Recognizing massive big game losses in the province and decades of underfunded wildlife management, we believed there to be a need for a hunting organization in BC to not only educate non hunters but to lobby for better wildlife and resource management in our province.
After hundreds of hours networking, monthly meetings, website development, branding & social media presence development along with newsletters, "Hunters for BC" voted to become "Hunters for BC – Interior Chapter SCI' in the spring of 2020. We hit the ground running with great enthusiasm, in May 2020, as a registered non-profit society in British Columbia and becoming Western Canada's newest Chapter of Safari Club International.
We had hoped one of our first initiatives would be planning our first annual fundraising banquet however COVID-19 quickly squashed that plan. Good news for us, word was spreading about our new organization and a few sponsors were stepping up to support us.
In May, 2020, the 1st Annual Forest Service Road Garbage Clean-Up Challenge rolled out across the province. We celebrated the projects success with our initiative being picked up by several media outlets across BC, the participation of a large Northern BC Mine, (Conuma Coal), and contact from an eastern Canada Chapter wishing to launch their own clean-up initiative!
Several landfills willingly accepted our garbage at no cost. A custom-made fire pit with our logo was awarded by random draw and a young mother out cleaning up garbage with her toddler won the prize.
With an abundance of new ideas, we wish to continue and grow this project in 2021.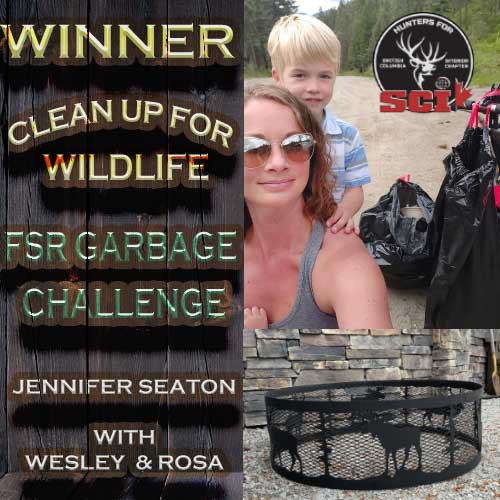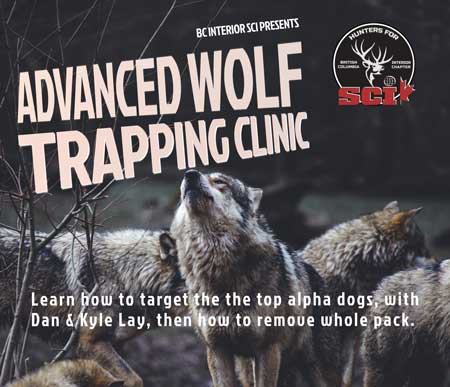 Our Education Committee organized two successful "Advanced Wolf Trapping Clinics". The focus on pack elimination techniques was well received among the trapping community. As we navigate thru the complexities of wildlife management in the province, we recognized wolves (and predation) is just one of the imbalances our wildlife are facing in our province and seminars such as this help right this imbalance.
Our Education Committee circulated two educational pieces written by two of our Directors. One editorial regarding the use of Herbicide in forest practices was prepared by Director, Neil Findlay, RPF. A second reviewed the complexities of caribou management was written by Director, Brennan Lund, a university student in Natural Resource Development.
Not to be outdone, our Conservation Committee teamed up with the Wild Sheep Society of BC (WSSBC) to jointly organize 4 wild sheep count weekends between June and September 2020.
Our wild sheep have been impacted by m.Ovi and monitoring of ewes and lambs is critical to help reduce impacts form this disease.
We will continue to support the Wild Sheep Society in their massive efforts to protect and grow wild sheep populations in British Columbia.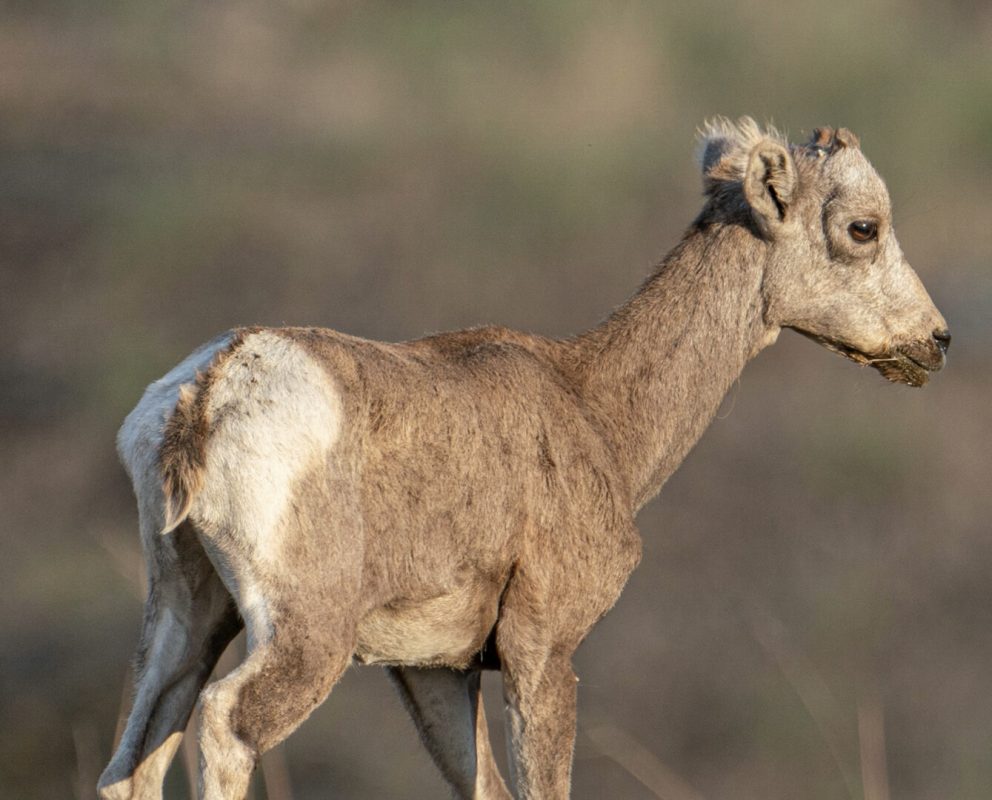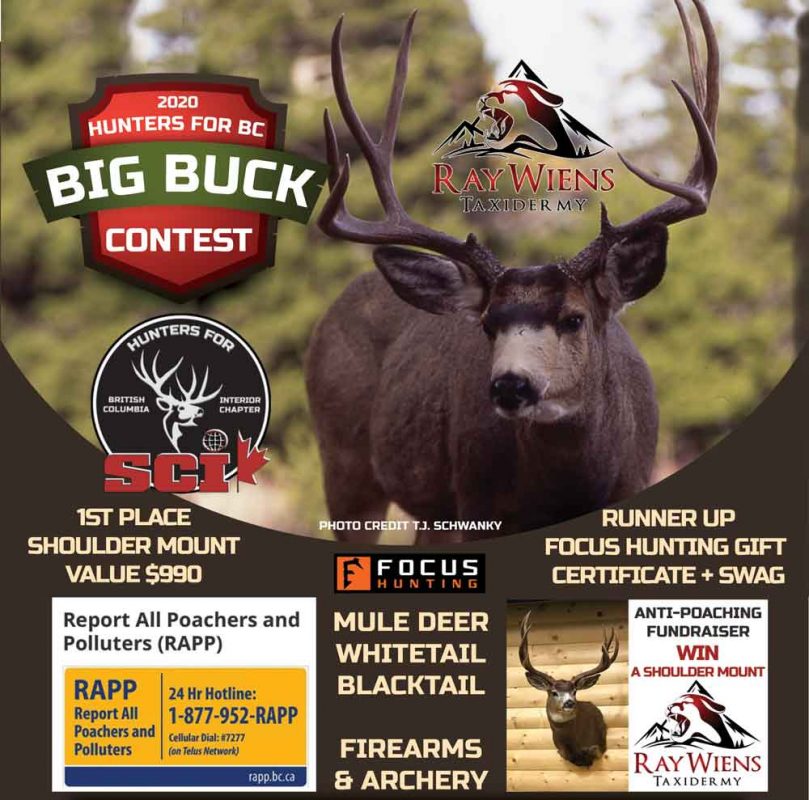 As our membership grows at Hunters for BC SCI we receive more ideas on how we can show our best selves to the non-hunting public.
We join with Safari Club International in its global efforts to reduce poaching and constantly striving to improve hunter image through lobbying and education.
Born from this was our 1st Big Buck Contest to not only celebrate hunting in our beautiful province, but to also raise awareness of the anti-poaching efforts of our BC Conservation Officer Services (CO's) and help raise funds for their Special Investigations Program.
We are proud to have raised over $1200 for this program with the help and support of our sponsors, Ray Wiens Taxidermy who donated a full shoulder mount and Focus Hunting for a generous Gift Certificate plus some Hunters for BC swag for the winners & top 5 bucks!
We are super excited about our developing partnership and sponsor, Focus Hunting & Focus Hunting Podcasts. One of the podcasts included our very own president — Link Here!
Focus Outdoors Canada is a brand dedicated to the advocacy of conservation and unity. Establishing connections with outdoors men and women through conversation and positive interaction is fundamental in augmenting a strong community foundation. A unified group of all outdoors men and women championing conservation and supporting wildlife together is instrumental in ensuring our legacy will be passed on to future generations.
Non-profit organizations are the heartbeat of true conservation., Without them the great outdoors we all love would cease to exist. One of our biggest challenges is creating awareness of the importance of conservation. The FOCUS brand allows us the opportunity to connect with people, bringing awareness to wildlife issues along with sharing conservation stories.
Focus Hunting has generously donated Gift Codes to Hunters for BC with 100% proceeds going to our organization. These are available for purchase on our website!