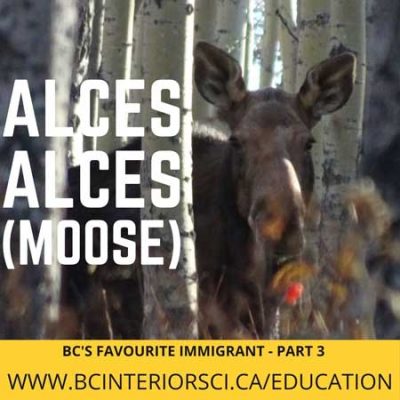 May 17, 2021
Alces Alces –BC's Favorite Immigrant
One Human's Opinion – Part 3
In Part 1 we looked at the history of moose arriving in BC early in the 19th century. In Part 2 we looked at what three other jurisdictions do for moose management: Newfoundland, Sweden and Finland.
Now we look at our future and some things BC might wish to consider in moose management.
Although BC and the other three jurisdictions all have their own unique characteristics, we also have much in common when it comes to the ability to produce moose.
We all have vast areas of forests that can support substantial moose populations. We all have a large and dominating forest industry. Most of our human populations are centred in a few large cities. We all have a long history of hunting and eating wild game as part of our diets. BC, Sweden, and Finland all have approximately 15% of their landbase as parks and protected areas, with Newfoundland at 7 percent.
The other three jurisdictions all currently produce a lot of moose, with Newfoundland leading the world at more than one moose for every square kilometre of land. BC has less than 1/10th of that density, but in fairness, has much more land area not suitable for moose habitation.
If BC wishes to have a higher moose density, then the first objective is for government to create an objective that says, "moose are important to the people of BC and we will manage for that".
In 2015 BC developed the Provincial Framework for Moose Management in B.C. – February 2015. The objectives for moose management in that report are:
1. ensure opportunities for consumptive use of moose are sustainable;
2. maintain a diversity of hunting opportunities for moose;
3. follow provincial policies and procedures (e.g. provincial moose harvest management
procedure) as guidance for regulatory options and management objectives; and
4. foster development of regional moose action plans where appropriate.
Notably absent in these objectives is the commitment to moose populations numbers, whatever and wherever they may be.
Also absent are any objectives relating to the most significant barrier to increasing moose populations, that being predators.
This document freely admits the province does not have any predator management objective relating to moose but does recognize that some moose populations will benefit from predator control efforts (wolves) related to caribou management.
After the publishing of this report government in its infinite wisdom eliminated the grizzly bear hunt for all of BC, with the full understanding that grizzly bears are also a significant contributor to moose predation.
The document also states that without First Nations cooperation and agreement in reporting moose harvest, the provincial harvest numbers could be underestimated by as much as 40 percent.
In summation, the one finding that this report does make is that:
The ecological conditions supporting moose population's varies substantially throughout the province and stakeholders have different regional expectations for moose management. Consequently, previous attempts to develop a provincial-level moose management plan have not been effective. Regional moose management action plans, guided by this provincial framework, offers promise of a more useful approach for managing moose in BC, and will enable more effective engagement with First Nations.
Six years later we still await the "Regional Moose Management Plans", all the while still knowing the provincial moose population continues its decline.
As a follow up or counter to the Provincial Framework for Moose Management in B.C. – February 2015, the Guide Outfitters Association of BC (GOABC) published the Moose Enhancement and Recovery Strategy – July 2016.
The Executive Summary from that report in its entirety is as follows:
The goal of this paper is to raise the profile of moose by demonstrating their integral value across the landscapes of British Columbia. When the full value of moose is taken into account, decisions made will result in enhanced moose habitat and recovered moose populations. This will in turn provide social and environmental benefits across large areas in the province.
Considering the historic management of moose and moose habitat in British Columbia, and the resulting decline moose populations have experienced is some regions of British Columbia, immediate action is required to recover moose populations. All available management levers need to be used to enhance and recover moose populations. The following recommendations should be implemented as soon as possible:
Establish moose density and composition objectives for each moose game management zone (GMZ) of the province. The density range should be between 0.75 to 3.0 moose/km2. For example, the Omineca Region has established a moose density objective of 1.35 moose/km2 and a composition ratio of greater than 30 bulls per 100 cows. A balanced age structure of bulls is also a key composition objective.
Moose populations are more difficult to estimate than some other species. Wildlife managers should incorporate hunter harvest questionnaire information and guide outfitter declarations to help estimate moose populations in combination with standardized aerial inventory.
While hunting mortality is one of the lowest causes of moose mortality, stricter hunting regulations, including elimination of the antlerless moose seasons, need to be invoked until the moose population and composition objectives within each GMZ are met.
Encourage First Nations to take a leadership role in moose recovery. Collaborative management would include improving the harvest reporting of their people. Better data on moose harvest will result in a more accurate annual allowable harvest (AAH).
The predator prey relationship is out of balance. High predator populations are having a significant impact on ungulate populations, including moose. Population density objectives need to be established for all predators. Wolves should be managed to a density of less than 0.003 wolves/km2.
The expansion of the natural resource sector over the last decade has resulted in the new construction of thousands of kilometers of resource roads. These roads are having significant and unintended consequences on the moose population. This access needs to be managed through the development of clear access management objectives and procedures. The maximum road density should be 0.6 km/km2 moose habitat with an objective of maintaining road density less than this depending upon regional plans.
Provide incentive for forest companies to enhance moose habitat. This would include relaxing free-to-grow regulations and limiting liability from habitat burns.
Conserve and manage sufficient habitat to maintain the moose population at 50% to 75% of carrying capacity as determined from the quality and quantity of winter habitat, and the productivity associated with nutritional/biological carrying capacity.
Complete and release the Cumulative Effects Framework report on moose.
Each provincial region needs to develop specific moose objectives, within the provincial ranges, to enhance or recover moose within their region.
Application of these recommendations should be accompanied by rigorous monitoring to ensure that they are effective and that we learn as much as possible from these actions, so that they can be improved on over time.
The challenge for British Columbian wildlife managers is they do not have enough control over the moose management levers. The provincial government is encouraged to use all management levers at its disposal to recover moose populations and set a course where moose (and all wildlife) values are considered when land use decisions are made. Decisions to support wildlife and their habitat are an important investment that will benefit all British Columbians.
5 years later we still think that the GOABC got it right. We also think Newfoundland, Sweden and Finland also get it right.
Do we need to say anymore?
Hunters for BC – SCI