Join the Hunters for BC Membership Drive! 
September 15 – 22 Only!⁠
Become a part of our passionate community of hunters and conservationists and enjoy ALL the regular member benefits PLUS an exciting bonus:⁠
⁠
Receive a Cougar Hunt Raffle Ticket when you join or renew your membership during this limited time!⁠
Learn More
Join Now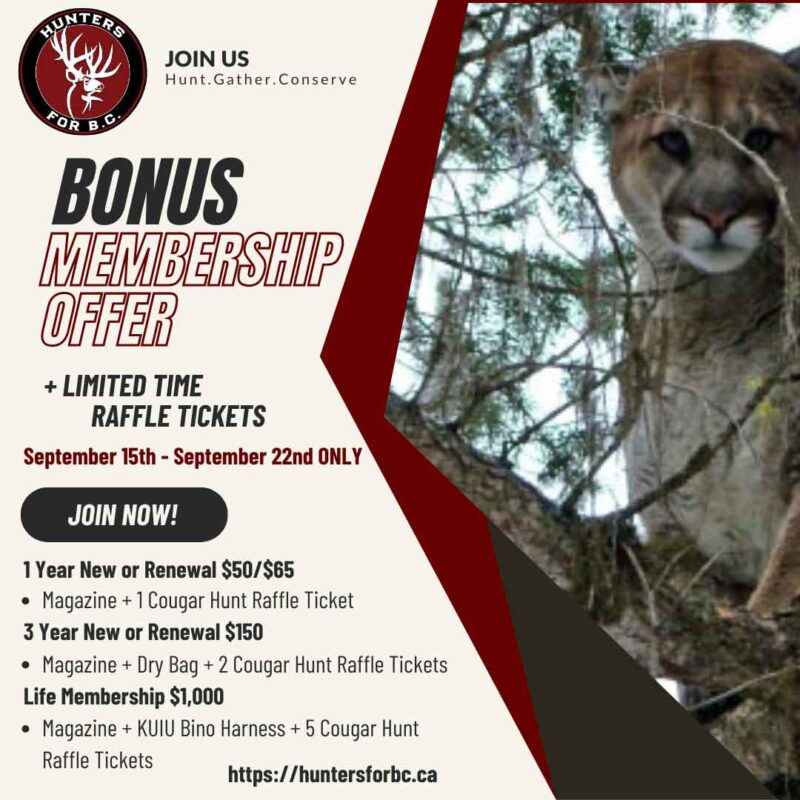 Access Management
We use the term access management to broadly describe resource roads & linear corridors.  For wildlife in British Columbia (BC), access management is an extremely important issue that involves balancing the needs of human activity with the conservation of wildlife and their habitats.
LEARN MORE
Predator-Prey Science & Education
BC is home to a diverse range of predator and prey species, including wolves, cougars, bears, moose, deer, and elk.  Human encroachment on the landscape has altered habitat and in many ways, has increased predator efficiency while reducing food & shelter for their prey.
learn more
Outreach Programs
Hunters for BC is committed to raising public awareness of endangered wildlife, disease threats and other important conservation topics in B.C.  Learn about Chronic Wasting Disease, share the Report A Badger website and check out our past Webinars.
WEBINARS
if you don't fight for what you love,
DON'T CRY FOR WHAT YOU LOSE
Author:  Bhagvatgita